The omnibus bill on job creation would scrap requirements for foreign workers in start-ups to obtain written permits, a move seen by businesses as an effort to help bridge the country's skills gap.
The sweeping bill states that foreign workers must get written permits except for members of boards of directors and commissioners, diplomatic and consular staff, those working at start-ups, in professional training, on business visits, doing research for a short period or doing machine maintenance for production in emergency situations.
A presidential regulation would be issued to regulate certain positions and service periods to be fulfilled by the foreign workers.
Meanwhile, the current Labor Law stipulates that only diplomatic and consular staff are exempted from getting the written permits.
"It's OK to hire foreign workers," Indonesia E-Commerce Association (idEA) chairman Ignatius Untung told The Jakarta Post on Wednesday. "But instead of exempting them from acquiring a permit, the government can make the permit application easier."
The government initiated the bill to cut regulatory red tape and ease business processes in the hope to attract more investment to jack up the country's sluggish economic growth. If passed into law, the bill would amend more than 1,000 articles in some 80 prevailing laws.
Ignatius said easing foreign worker restrictions for the country's start-ups could help Indonesia close its digital talent gap and encourage the transfer of knowledge. However, a permit was still needed to prevent foreign tech-savvy workers from flooding into the country and hampering the growth of local talent.
Indonesia's digital economy is expected to reach US$130 billion in market value by 2025, triple the $40 billion valuation of 2019, with the e-commerce and ride-hailing sectors driving most of the growth, according to the 2019 e-Conomy SEA study conducted by United States technology giant Google, Singaporean holding company Temasek and management consulting firm Bain & Company.
The country itself has four unicorns, start-ups valued at more than $1 billion, out of 11 in Southeast Asia, the study revealed.
According to startupranking.com, a website that collects worldwide start-up data based on registration, Indonesia has the most start-ups in Southeast Asia with 2,192 as of February.
The government, Ignatius said, could partner with associations in determining what type of skills are still needed in the country and in issuing recommendations.
Ignatius added that Indonesia should let international universities open their branches in the country to educate future local data scientists and artificial intelligence (AI) engineers, among other professions.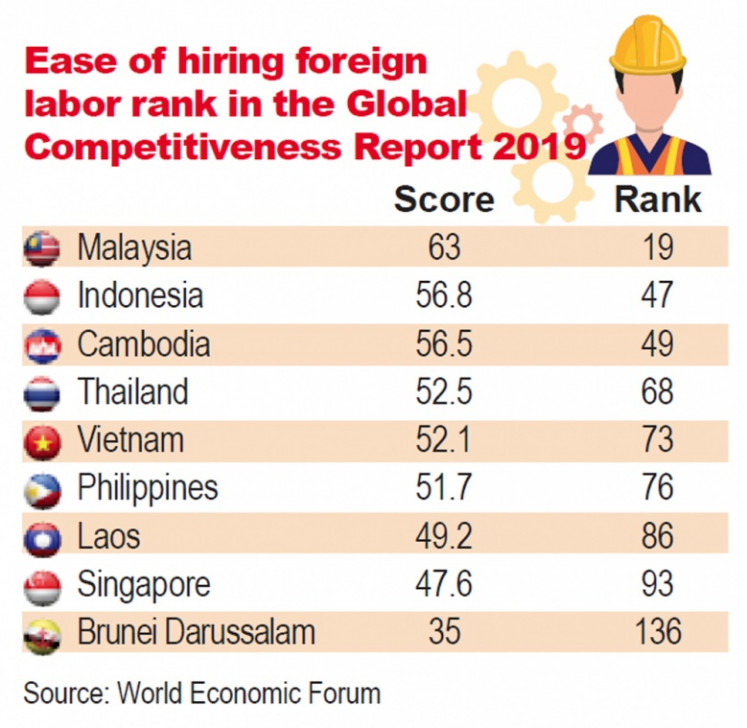 Ease of hiring foreign labor in the World Economic Forum's Global Competitiveness Report 2019. (World Economic Forum/Global Competitiveness Report 2019)
"Instead of waiting for the Indonesian diaspora to come home, we should bring the lessons here," Ignatius said. "That way, we get the skills and we can retain the human resources too."
The McKinsey Global Institute and the World Bank projected Indonesia would see a shortage of 9 million skilled and semiskilled workers in the digital sector between 2015 and 2030.
According to a McKinsey & Company report titled Automation and the Future of Work in Indonesia, there will be 10 million jobs in new occupations that do not exist today by 2030. A projected 27 million to 40 million new jobs will be created in the same period if Indonesians learn new skills, versus the 23 million jobs that could be displaced by automation.
"The challenge is how to reskill at least 23 million people whose jobs are being replaced. Not to mention that in 2030, there will be 25 million new people entering the workforce," McKinsey Indonesia managing partner Philia Wibowo said in an interview with the Post in September.
Indonesian Chamber of Commerce and Industry (Kadin) vice chairwoman for international relations Shinta Kamdani expressed confidence that Indonesian start-ups did not solely rely on foreign talent in running their businesses, despite acknowledging that the country still needed assistance in filling the digital talent gap.
"All of Indonesia's unicorns are local start-ups. So, there is no need to have negative assumptions about foreign workers" Shinta said. "What's important is that start-ups can develop, and they can bring benefits to the country."
She went on to say that partnerships between local start-ups and international entities often happened. The start-ups, she added, should not limit their collaboration only to other local organizations or businesses.
This article originally posted by Jakarta Post.
---
FMB & Partners Law Firm assists clients with various legal issues that arise in operating business on a daily basis including providing legal advice, due diligence, and creating legal documentation. Contact us for e-commerce and technology company legal service and other legal services at +62 21 5082 0033 or mail to mey@fmbpartner.com
Follow us on FMB Partner social media pages: